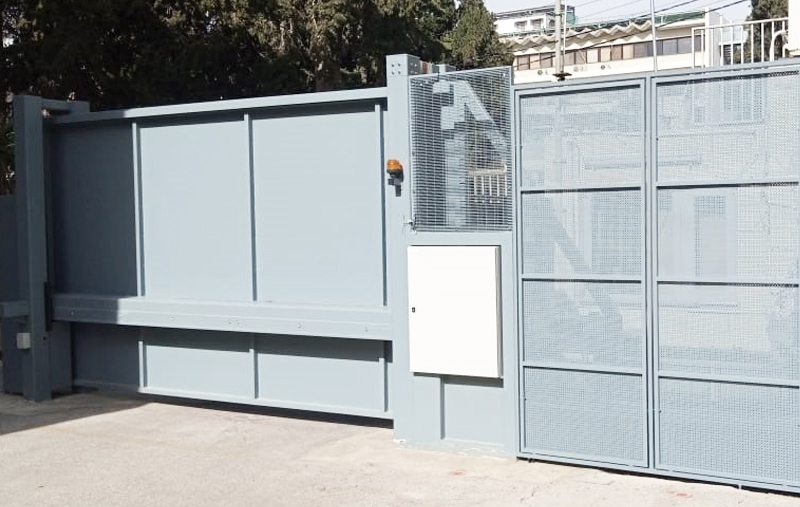 V/7500[N2]/80/90:1.5/0.0
V/7200[N2A]/64/90:1.8
V/7500[N3]/80/90:0.0/0.0
Bullet Resistant Dimensions: 3000mm wide x 2000mm high
Tested: 9mm Ball
7.62 x 39 Nato Ball
5.56 x 45 Nato Ball
7.52 x 51Nato Ball
Width: Variable up to 3000mm
Variable Heights: 2000mm
Construction: The gate is a fully welded construction of steel sections including specially designed Frontier Pitts' Steel Impact Beam with Bullet Resistant infills.
Foundation Type B
Finish: Shotblasted, hot zinc sprayed (galvanised), primed and finished with a final coat of polyurethane paint.
Options: UPS (Uninterrupted Power Supply), EFO (Extra Fast Operation), Disengaging Box – manual override, High Security Cabinet, Anti-tamper alarms
Safety: Safety-edges, Vehicle Detector Loops, Safety Photocells, LED Traffic ligh heads, Flashing beacon, Audible alarm
Normal Operating Speed/Time: 250mm per second Depending on configuration and subject to on site risk assessment to ensure the gate would comply with BS EN 12453
EFO Operating Speed/Time: 600mm/second Depending on configuration and subject to on site risk assessment to ensure the gate would comply with BS EN 12453
Duty Cycle: 100% duty rating
Controls: The programmable logic controller (PLC) with built in safety features will accept inputs from access control systems including access card, voice, etc. Push button as supplied as standard
Accreditations: Secured by Design, BRE Global
Signage: Warning and information signs installed on the barrier boom such as 'STOP' 'NO EXIT' and 'NO ENTRY'
Traffic Lights: Traffic Light systems are highly recommended to be installed with all automatic systems to advise all users of its position. 100mm or 200mm LED Red/Green, Low Voltage traffic light heads can be pole or mounted on control cabinet mounted.
Vehicle Detector Loops: Vehicle detector loops installed beneath the road surface to detect vehicles. This will prevent the gate from closing on a vehicle within the aperture.
Safety Photocells: Safety Photocells produce beams of light which cross the road way to monitor vehicle and pedestrian movement. If an object breaks this beam, the automatic equipment will stop. On gate installations, two pairs of photocells are usually fitted. Ultra Sonic Sensors are also available.
Gate Safety Edge: Safety Edges are normally fitted to automatic gates. Safety edges are flexible rubber strips which are fitted to the leading edge of the moving art of the gate, if depressed, send a signal to the controller to stop the gate.
Pedestrian Guard Rail: A Pedestrian Guard Rail (fence panels) should be fitted around the runback area of the gate. This is to prevent serious injury to a person should they stray into that area whilst the gate is operating.
Sounder: Sounders/Audible Alarms provide an audible warning that the automatic equipment is in operation.
Flashing Beacon: Flashing Beacons provide a visual warning that the automatic equipment is in operation.