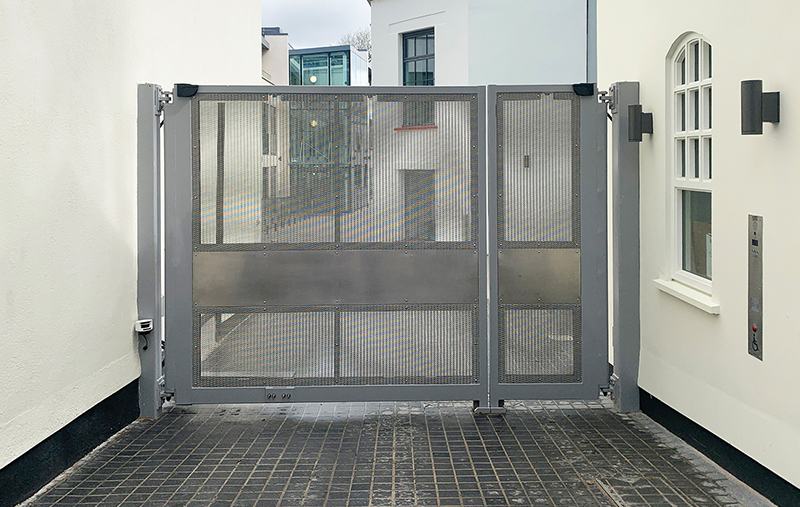 Benefits & Features
Designed to provide a high degree of security within a fenceline where the runback required for a sliding gate installation is not available.
Hinged Gate leaves can be automated with our range of Trojan, Dutyman or Gate back Actuators
Safety
Vehicle detector loops
Safety photocell beams
Flashing beacons
Audible alarm
Safety Edge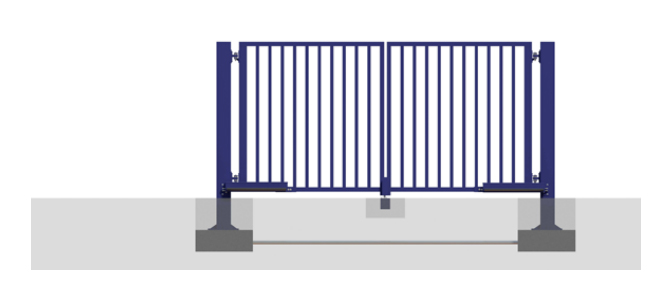 TROJAN ACTUATOR
Designed to automate larger, heavier gates
100% duty rating – designed for continuous operation
Underground and surface mounted models available
Options
100/200mm Traffic Light System
High Security Cabinet
Can be interfaced to any access control systems
Dutyman MkII Actuator
A surface mounted, self contained electromechanical drive mechanism
The actuator will operate single leaf gates up to 6m, double leaf widths up to 12m and heights up to 6m*.
100% duty rating – designed for continuous operation
Gate Back Actuator
A powerful yet compact motive unit which provides a solution for automating single leaf hinged gate (up to 5m)
100% duty rating – designed for continuous operation
Civil Requirements
Gate post foundation (millimetres)
L: 1600 x W: 1300 x H: 1000
Dependent on Automation
Note: : Power and control wiring ducts to be incorporated into foundations
Electrical Requirements
Security Hinged Gates, or Security Swing Gates as they are also known, are designed to provide a high degree of security within a fence line where the runback required for a sliding gate installation is not available.
Hinged and Swing gates are available in automatic and manual models, in a wide range of styles to compliment both contemporary and traditional architectural designs. They can also be custom-designed to match a company's specific requirements.
Automatic Hinged/Swing Gates are powered by actuators. For our full range of actuators, please contact us:
Manual Hinged Swing Gates are available in standard widths of 4, 5, 6m, with heights of 2.4 and 3m
Automatic Hinged Single Leaf Maximum width: 5000mm
Double leaf Maximum width: 10000mm
Standard height: 2400mm
Maximum height: 5000mm
Bespoke available
Hinged/Swing Gate
Automatic Hinged Single Leaf Maximum width: 5000mm
Double leaf Leaf Maximum width: 10000mm
Standard height: 2400mm
Maximum height: 5000mm
Bespoke available
Manual and Automatic Hinged/Swing Gates available.For Automatic Hinged/Swing Gates, please see Actuator page for more information.
Bespoke available
The gate leaf is a fully welded construction of rectangular hollow section, low carbon steel to BS4848 Pt.2. Combination of vertical 50mm x 25mm ERW bar infill at approximately 180mm centres backed by 50mm square galvanised weld mesh, painted to match Standard colour range: Any colour in the RAL colour range
Finish: Various options available, including: Shotblasted, hot zinc sprayed, primed & finished with a final coat of polyurethane paint. Alternatively, acid dipped then hot galvanized available on smaller gates.
Various security infills available including bar, security weldmesh, sheet, and bespoke such as wood and ornate.
100 % Operating duty cycle – designed for continuous & frequent use.
Typical operating speeds dependent on automation type and configuration.
Hinged Gates Safety control systems: Vehicle detector loops, safety photocells, ultra-sonic sensors and safety edges are available. Accessories: Signage, audible alarms and flashing beacons.
Hinged Gates Access controls: A wide range of access control systems are available.This is subject to a risk assessment to ensure the automatic equipment complies to BS EN 12453
Signage: Warning and information signs installed on the barrier boom such as 'STOP' 'NO EXIT' and 'NO ENTRY'
Traffic Lights: Traffic Light systems are highly recommended to be installed with all automatic systems to advise all users of its position. 100mm or 200mm LED Red/Green, Low Voltage traffic light heads can be pole or mounted on control cabinet mounted.
Vehicle Detector Loops:Vehicle detector loops installed beneath the road surface to detect vehicles. This will prevent the gate from closing on a vehicle within the aperture.
Safety Photocells: Safety Photocells produce beams of light which cross the road way to monitor vehicle and pedestrian movement. If an object breaks this beam, the automatic equipment will stop. On gate installations, two pairs of photocells are usually fitted. Ultra Sonic Sensors are also available.
Gate Safety Edge: Safety Edges are normally fitted to automatic gates. Safety edges are flexible rubber strips which are fitted to the leading edge of the moving art of the gate, if depressed, send a signal to the controller to stop the gate.
Sounder: Sounders/Audible Alarms provide an audible warning that the automatic equipment is in operation.
Flashing Beacon: Flashing Beacons provide a visual warning that the automatic equipment is in operation.
Gate Infill: Weldmesh should be clipped to the gates infill bars infill to prevent pedestrians putting their limbs through. Other infills include palisade pales, sheet and wood infills. For more information please contact us.