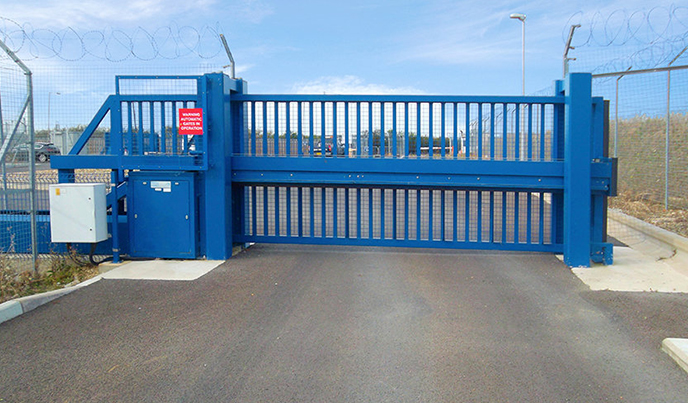 Foundation Type B – Shallow embedment depths of only 500mm required
Maximum width: 6000mm
Minimum height of 1200mm
Maximum Height 3000mm
PAS 68 Tested dimensions : width 4500mm height 3000mm
The Terra Sliding Cantilevered Gate is a PSSA Verified product. The Perimeter Security Suppliers Association has introduced a verification scheme to provide confidence to clients of the perimeter security industry and ensure that the associations members conform to internationally recognised quality standards.
PAS 68 Classification Code: V Sliding Gate /7500(N3)/80/90:1.5/0.0
Height: up to 3000mm
Width: Variable up to 6000mm
Shallow Foundation depth of only 500mm
Painted to any RAL colour
Crash tested in the UK by MIRA
Construction: The gate is a fully welded construction of heavy gauge steel sections including specially designed Frontier Pitts' Steel Impact Beam.
Shallow Foundation Type B of 450mm
Finish: Shotblasted, hot zinc sprayed (galvanised), primed and finished with a final coat of polyurethane paint.
Method of Operation: Push button as standard for automatic gates, consist of (Open/Stop/Close) buttons.
Operational Options: Manual or Automatic
Safety Options

Photocells
Vehicle Detector Loops
Safety Edge
LED Red/Green Traffic lights
Flashing Beacon
Audible Alarm

Normal Operating Speed/Time: 200mm per second Depending on configuration and subject to risk assessment to ensure the gate would comply with BS EN 12453 (Safety Standards)
Duty Cycle: 100% duty rating
Controls: The programmable logic controller (PLC) with built in safety features will accept inputs from access control systems including access card, voice, etc. Push button as supplied as standard
Successfully Crash tested in the UK to the international IWA14 specification.
Terra G8 has been designed for wider entrances covering 8m width of counter Terrorism protection.
Heavy duty posts support the gate leaf during operation and crash test.
Cantilevered gate, no track or support required across the road width, minimal excavation.
The balance is provided by a unique enclosed "runback" which enables the gate to be fully projected across the roadway without tipping.
Designed for easy of installation and maintenance
Can be interfaced to any access control systems.
Manual disengaging leaver arm for emergency use
Advance drive mechanism with acceleration and deceleration velocity to preserve the driving mechanism.
Operating temperature of -20 to + 60C
Operating Voltage: Single phase 230V AC at 50Hz
Accreditations: MIRA, Secured by Design, BRE Global
Infill options

Bar infill
Weldmesh infill 358mm
Sheet infill (Solid)
Square mesh infill 50x50mm
Special infill (contact us for further details)
Signage: Warning and information signs installed on the barrier boom such as 'STOP' 'NO EXIT' and 'NO ENTRY'
Traffic Lights: Traffic Light systems are highly recommended to be installed with all automatic systems to advise all users of its position. 100mm or 200mm LED Red/Green, Low Voltage traffic light heads can be pole or mounted on control cabinet mounted.
Vehicle Detector Loops: Vehicle detector loops installed beneath the road surface to detect vehicles. This will prevent the gate from closing on a vehicle within the aperture.
Safety Photocells: Safety Photocells produce beams of light which cross the road way to monitor vehicle and pedestrian movement. If an object breaks this beam, the automatic equipment will stop. On gate installations, two pairs of photocells are usually fitted. Ultra Sonic Sensors are also available.
Gate Safety Edge: Safety Edges are normally fitted to automatic gates. Safety edges are flexible rubber strips which are fitted to the leading edge of the moving art of the gate, if depressed, send a signal to the controller to stop the gate.
Pedestrian Guard Rail: A Pedestrian Guard Rail (fence panels) should be fitted around the runback area of the gate. This is to prevent serious injury to a person should they stray into that area whilst the gate is operating.
Sounder: Sounders/Audible Alarms provide an audible warning that the automatic equipment is in operation.
Flashing Beacon: Flashing Beacons provide a visual warning that the automatic equipment is in operation.
Gate Infill: Weldmesh should be clipped to the gates infill bars infill to prevent pedestrians putting their limbs through. Other infills include palisade pales, sheet and wood infills. For more information please contact us.